Attorney Boone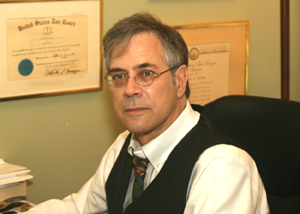 Boone & Henkoff was founded by Jefferson W. Boone in January,1985 as "Law Offices of Jefferson W. Boone", on the same day as he was admitted to the Massachusetts Bar. In 1987, the office moved from Brighton Center to Allston, where Attorney Joseph Schneider joined with Mr. Boone and the firm became "Boone & Schneider." In 1988, Phillip Henkoff joined the firm, which became "Boone, Henkoff & Schneider." When Mr. Schneider left the firm later in 1988, the present name of "Boone & Henkoff" was assumed. Mr. Henkoff died of cholera, at the age of thirty, in 1991, but the name remains as a memorial to him. In September 2005, Boone & Henkoff returned to Brighton Center.

Jefferson W. Boone:
Hamilton College, BA (1973)
Rutgers University, MBA (Accounting, 1976)
New England School of Law, JD Cum Laude (1984)
Massachusetts Bar (1985)
U.S. District Court (Massachusetts, 1987)
U.S. Tax Court (1988)
U.S. Court of Appeals, 1st Circuit (2000)
Member, Southern Poverty Law Conference (1981)
Member, Massachusetts Bar Association (1985)
Member, Boston Bar Association (1985)
Prior Employment: Prudential Insurance Co., FLMI, 1976-1980 (Accountant, Regional Auditor, Senior Computer Programmer)
Cameron & Colby - Reinsurance Company, 1980-1982 (Systems Analyst)
Ropes & Gray, Law Firm, 1982-1985 (Systems Analyst)
Member, Massachusetts Academy of Trial Attorneys (2010)
The information you obtain at this site is not, nor is it intended to be, legal advice. You should consult an attorney for advice regarding your individual situation.
Any unauthorized use of material herein is at the user's own risk. Transmission of the information and material herein is not intended to create, and receipt does not constitute, an agreement to create an attorney-client relationship with Law Office of Boone & Henkoff or any member thereof. Contacting Law Office of Boone & Henkoff does not create an attorney-client relationship. Please do not send any confidential information until such time as an attorney-client relationship has been established.